Decking Boards
Decking boards usually measure 5/4 x 6. Sometimes a narrow board can be used. Today we offer several choices of natural wood and man made products.
Exotic species such as mahogany, thermally treated white ash, and Ipé, can be special ordered.
Coxwood Pressure treated yellow pine 
 Standard lengths, 12′ and 16′
Standard size, 5/4 x 6 (1-1/16″ x 5-1/2″)
Kiln dried twice, once before treating, and a second time after treating
o Less shrinkage
o Less warping
o Less twisting
o Less splitting
Can be stained or painted immediatel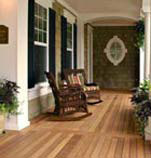 Stocked D & Better grade (essentially clear material),
D & Better grade 5/4 comes in random lengths from 6′ to 16′
Very light in weight
Dimensionally stable
Naturally insect, weather, and rot resistant
Will accept paint or stain very readily
Man made decking
Minimal maintenance
Installs the same as pressure treated
Typically requires framing no wider than 16″ on center
Stock lengths typically 12′, 16′ and 20′
Accessory trim material vary with manufacturer
Does not require any further finishing-stain or paint
ModernView Decking
o Composite of high and low density polyethylene and encapsulated wood fiber
o Can be used in contact with ground or in water
o Rough wood grain texture on one side
o Four (4) colors available: Slate, Auburn, Java and Amber
o 1×12 fascia trim boards available, 12′ lengths
o Available with grooved edge for hidden fastener use
o www.modernviewdecking.com
Azek Decking
o Cellular PVC decking
o Embossed wood grain texture
o Fifteen (15) colors available: Brownstone, Slate Gray, Kona,  Sedona, Tahoe, Silver Oak, Morado, Redland Rose, Acacia, Hazelwood.  XLM Harvest Bronze, XLM Rustic Bark, XLM Walnut Grove, XLM River Rock, XLM Sandridge
o 1/2 x 8, and 1/2 x 12 trim boards are available, 12′ lengths
o Stain and wear Resistant
o Color matched hand rails available for some deck colors
o www.azek.com
Railings
Porches and decks require railings. You can design and build your own or take advantage of pre-made kits.  Matthews & Fields can also build primed and clear wood cedar railing sections
Trademark Railing, a composite material
Colorguard Railing, a vinyl material
Porch Flooring & Ceiling Material
We stock wood to match historic porches for repairs and new porches. Douglas fir ceiling material can be used on a porch ceiling or inside on a wall. Douglas fir and mahogany tongue & groove boards are stocked.
Douglas Fir Flooring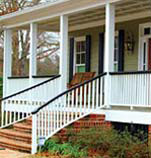 Stocked in 1 x 4 and 5/4 x 4 sizes in Douglas Fir flooring
Beaded ceiling stocked in 5/8 x 4
The Douglas Fir is Quarter sawn, clear vertical grain material, the most stable cut of the wood
Porch flooring is sold in sold in random lengths from 4′ to 16′, odds and evens
Dimensionally stable
Can be stained or painted
PVC Flooring
Mahogany Flooring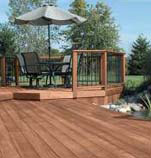 Stocked in 1 x 4
Deep red color
Sold in random lengths from 4′ to 16′, odds and evens
Harder than Douglas Fir
Can be stained or painted
Dimensionally stable
Porch Ceiling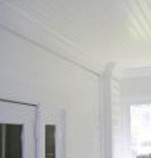 Quarter sawn Douglas Fir, clear vertical grain material, the most stable cut of the wood
Sold in random lengths from 4′ to 16′, odds and evens
5/8″ x 4, tongue and groove
Dimensionally stable
Can be stained or painted
Edge and center bead
Can also be used as wainscoting
Function, beauty, and unmatched stability
Plain sawn with beautiful cathedral grain
Conventional installation, Thermory® is incredibly flat, stable, and installed by face screwing or pre-grooved for hidden clip fastening systems
Matching railings, siding and fence components available
Class 1 durability rating, resistant to rot and decay for 25+ years
Harvested from sustainable American forests, not rain forests!
Half the weight of Ipe
Easy on tooling, saw blades and drill bits
Less thermal conductivity than Ipe or composites, no hot feet!
Dust is not toxic
Green thermal process using only heat and steam, no chemicals
Proven experience and established manufacturing using European technology
Ages gorgeously to a silver color, matching coastal homes or maintain tropical tones with UV deck oils
Thermory® USA has a fully functional manufacturing facility with planners, sanders, jointers, saws, CNC capabilities, molder, etc… so always ask, "Can we do this?"